A pink puffball is the cutest attraction of "Kirby and the Forgotten Land". In this 3D game, Kirby was sent out to a post-apocalyptic world to rescue Wadle-Dees, collect items and consume some objects. Ok, ok we are not giving you more spoilers!!
To help you in your adventure, the Forgotten Lands has introduced some Present Codes. These present codes will provide you with some useful and better deals and items. We have mentioned the redeem method below with the redeem codes and their uses. So stay tuned.
How to Redeem the Gift Codes in "Kirby And The Forgotten Land"
You can't access the codes from the beginning of the game, but you can do that once you have unlocked the Waddle Dee-liveries post office. To unlock Waddle Dee-liveries post office, you have to rescue 50 Waddle Dees firstly and then go to Waddle Dee town. Then go to the backside of the post office.
To redeem the code, you have to talk to the Delivery Waddle Dee. And then you can enter the code. Enter the code in all capital letters. You must have an active internet connection. And remember that you can use these codes only one time.
If you have entered the code correctly, the present will be delivered in front of your house. Yes, we know that the time of traveling to post office from house, and vice versa. But it is how the game mechanics work.
Present Codes of Kirby and the Forgotten Lands and their Benefits
There are only 15 Present Codes are known till now. Those Codes are given below with their rewards. Do not enter the codes in small letters. Only use capital letters to enter the codes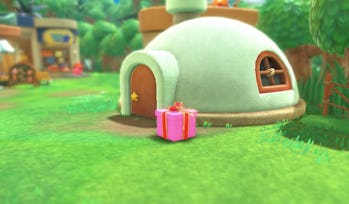 ADVENTUREGUIDE: 1 Rare Stone
BRAWLINGCOLOSSEUM: 500 Coins, 1 Attack Boost
CLEARDEMO: 300 Star Coins
FIRSTPASSWORD: 100 Star Coins
GAMENEWS: 1 Rare Stone
KIRBYADVENTURECALI: 300 Star Coins, 4 Food Items
KIRBYGAMESTOPCAN: 150 Star Coins, 1 Maxim Tomato
KIRBYMICROSITE: 150 Star Coins, 1 Attack Boost
KIRBYNEWSDESK: 10 Star Coins, 1 Energy Drink
KIRBYSTORY: 300 Star Coins
KIRBYTHEGOURMET: 1 Rare Stone, 1 Car-Mouth Cake
MOUTHFULMODE: 100 Star Coins, Car-Mouth Cake
NEWADVENTURE: 300 Star Coins, 1 Rare Stone
THANKYOUKIRBY: 1,000 Star Coins, 1 Rare Stone
THANKYOUMETAKNIGHT: 3 Rare Stones